Welcome to our blog post where we will be discussing the recently released game, Redfall. As with any highly anticipated game release, there is always a buzz of excitement and anticipation in the air, as fans eagerly await to see if their expectations are met or surpassed. However, with Redfall, the initial excitement quickly turned into disappointment for some fans of the genre. The game has received mixed reviews, leaving many gamers wondering if Redfall was really such a letdown for fans of the genre. In this blog post, we will delve deeper into the world of Redfall, examining its strengths and weaknesses, and ultimately answering the question on every gamer's mind – is Redfall worth the hype?
Uncover the Dark Storyline of Redfall
Storyline
Redfall, Massachusetts, a once-peaceful town, is now a place of chaos and fear as a pack of vampires has taken over, blocking out sunlight and isolating the citizens. As the player, you must help the survivors, uncover the truth behind this vampiric invasion, and take back your home.
Explore the expansive open world of Redfall, discover hidden clues, and interact with the inhabitants to get a better understanding of the situation. Furthermore, defend against the ferocious creatures, who seek to eradicate humanity, with a new breed of weapons, and unravel the mystery behind the vampire attack through deep and engaging story campaigns.
The talented team behind Redfall has gone above and beyond to create an immersive and atmospheric environment, complete with dynamic lighting effects, breathtaking vistas, and excellent sound design. Besides, with a focus on cooperative play, players can team up with friends and family for epic battles against increasingly powerful foes.
Moreover, the game also features exciting multiplayer modes, where rival groups battle it out for dominance, offering even greater challenges for those who crave it.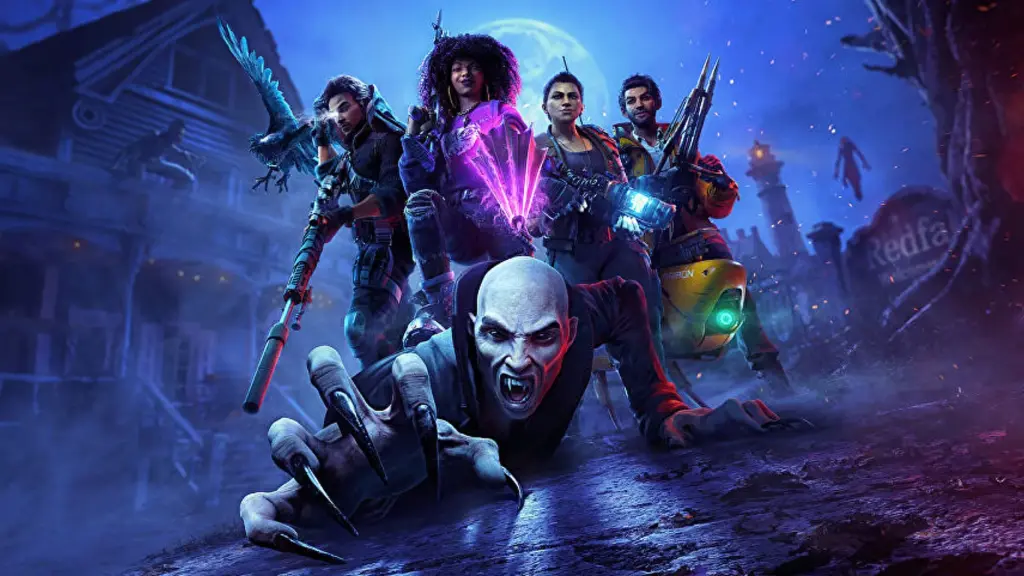 Slay Alone or Squad Up: Redfall's Versatile Gameplay Experience
Redfall offers gamers the chance to dive into the vampire-infested town of Redfall alone or join forces with friends in a multiplayer squad of up to four players. Players have the freedom to choose between playing solo or collaborating with friends. They can customize their loadouts to fit their group's strategy and individual strengths. As gamers progress through Redfall's narrative-driven campaign, they unlock specialized weapons and character upgrades. The upgrades will empower them to combat the vampire apocalypse in their own unique way.
The gameplay experience of Redfall caters to various playstyles, from full-on assaults to stealthy sneak attacks. The game's cooperative gameplay also ensures a thrilling experience for those who prefer playing with friends. On the other hand, gamers who enjoy tackling intense challenges alone will find themselves equally entertained by battling fierce enemies while upgrading their skills and gear. In sum, Redfall's action arcade gameplay has something to offer for everyone, regardless of their preference to play alone or squad up.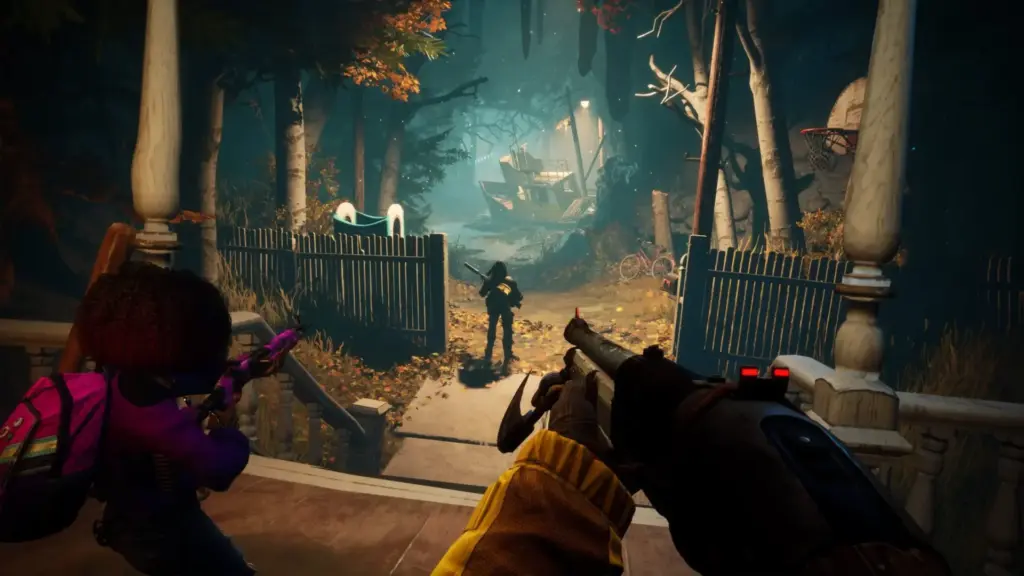 Gaming Experience for 17+
In the game, players must survive a vampire apocalypse, battling the undead hordes and enlisting allies. Most important, this 3.5-rated game is for gamers who are 17 years or older and are comfortable with mature content and violent combat.
In addition to its intense action, Redfall features horror-inspired gameplay mechanics such as hand-to-hand combat and psychological warfare. The game's unique storyline keeps players engaged, guessing, and always on their toes. So, whether you choose to brave the undead alone or form a squad to take them on, Redfall promises a thrilling and mature gaming experience that's not for the faint of heart.
What Your Gaming PC Needs to Run It Smoothly?
Redfall is now available on Xbox Series X and PC. It will be included in Microsoft's Game Pass from Day One, offering access to the game without extra cost. While the game isn't officially supported on Xbox One, it can still be played using Xbox Cloud Gaming. In which, it utilizes Azure Cloud streaming to provide access to the game for Xbox One players.
To enjoy the game on PC, you'll need a system that meets the following minimum requirements:
| | | | |
| --- | --- | --- | --- |
| Specification | Minimum Specs | Recommended Specs | Ultra Specs |
| GPU | AMD Radeon RX 580 / Nvidia GeForce GTX 1070 | AMD Radeon RX 5700 / Nvidia GeForce RTX 2080 / Intel Arc | AMD Radeon RX 6800 XT / Nvidia GeForce RTX 3080 |
| VRAM | 6GB | 8GB | 10GB |
| CPU | AMD Ryzen 5 1600 / Intel Core i5-8400 | AMD Ryzen 7 2700X / Intel Core i7-9700K | AMD Ryzen 7 2700X / Intel Core i7-9700K |
| RAM | 16GB | 16GB | 32GB |
| OS | Windows 10 | Windows 10 | Windows 11 |
| Storage | 100GB | 100GB | 100GB |
Source: rockpapershotgun
Redfall Review Roundup: What Critics Are Saying?
The game has garnered a mixed review from Eurogamer. While the reviewer acknowledges the game's muddled and compromised nature, they also note its moments of real charm. In particular, the reviewer enjoyed the Chickering safe house, which provided a nice place to hang out, and discovering a smoothie bar that had been overturned during the vampire apocalypse. These details added to the overall experience of the game.
However, the review also mentions the technical issues plaguing the game, including slow texture loading and a stumbling frame rate. Also, the design issues are awkward controls and problematic AI. Despite these flaws, the reviewer still expresses fondness for Redfall, especially for its world-building, which they describe as beautiful and layered with depth. They also appreciated the immersive sim elements and the pre-combat moments that allow players to plan and strategize their approach.
In the IGN review of Redfall, the author highlights numerous flaws with the game's design, mission structure, and technical performance. In addition, the review notes a lackluster game world, simplistic combat, and uninteresting missions, while also citing a host of technical problems such as glitches and poor performance. However, the combat is often lackluster and uninspiring due to weak enemy AI. In conclusion, the author expresses dissatisfaction with the overall quality of Redfall's gameplay and technical issues. These criticisms may give potential players second thoughts about the game, as they consider whether or not it's worth their time and investment.
The author from PC Gamer is also highly critical of Redfall. They describe the game as a disappointment, failing to meet expectations in terms of genre and gameplay. Moreover, they point out issues with the game's mechanics, including underwhelming abilities and lackluster enemy AI. Besides, the author notes that the game's multiplayer structure detracts from what Arkane does best, as enemies move unnaturally and certain skills are largely useless in cramped spaces. Furthermore, the game story and tone are also criticized for their inconsistency and confusion. Despite some moments of intrigue and haunting set pieces, the author ultimately finds Redfall to be an incoherent and unfun shooter that does not live up to Arkane's previous works.
Microsoft Gaming CEO Phil Spencer has responded to the mixed reviews of Redfal, expressed disappointment with the game's rocky launch. During an episode of Kinda Funny's Xcast, Spencer said, "There's nothing more difficult for me than disappointing the Xbox community. I'm upset with myself". He also expressed regret that Redfall was supposed to launch with 60fps support but only ended up supporting 30fps.
Spencer went on to explain what went wrong with the game's development, saying that he likes when developers step outside their comfort zone and try something new, using examples such as Tango Gameworks' Hi-Fi Rush, Obsidian Entertainments' Grounded, and Rare's Sea of Thieves. Besides, he noted that Arkane Studios, the developer of Redfall, was trying something new by making an online co-op game, and that Microsoft should have stepped in to help Arkane much earlier on. "We should have been there for the team earlier. That's on us. We were too late to help. I take that as a learning. As painful as it is," he said.
About the Developer: Arkane Studios
Arkane Studios is a well-respected video game developer. They have developed games for a wide range of platforms since its establishment in 1999. The studio is best known for its critically acclaimed first-person stealth action series, Dishonored. Besides, the other hits such as Prey and Wolfenstein: Youngblood. Moreover, Arkane's team is comprised of passionate developers who put incredible attention to detail in their work, ensuring that every aspect of a game is pushed to its limits to achieve the highest quality possible.
At Arkane, clear team goals are in place to maintain quality and creativity, no matter the project size. The studio's unique approach to game development sets it apart from others, with a focus on top-notch visuals, sound effects, and level design.
As a leading developer in the gaming industry, Arkane Studios prides itself on utilizing advanced technology while staying true to its fanbase. Their commitment to excellence is evident in the quality of their games and the satisfaction of their players.
Conclusion
In conclusion, while Redfall has its flaws and has received mixed reviews, it still offers a unique and engaging experience. With its flexible platform options, gamers can easily jump into the game and explore the world of Redfall. Hence, let's immerse ourselves and create our own unique experience within the game.
Besides, for those in Singapore looking for a high-quality gaming desktop to fully experience Redfall and other games, be sure to check out VOLTA PC for top-of-the-line custom gaming pc builds.