The world of CPUs and gaming PC are an ever-evolving landscapes, with Intel and AMD consistently pushing the boundaries of technology. In this blog post, we'll delve into the upcoming Intel Meteor Lake and AMD Zen 5 architectures, comparing their potential features, performance, and market positioning. We'll also explore some great CPU options to consider while waiting for these next-generation processors to hit the market. So, let's dive in and discover what the future holds for these computing powerhouses.
Intel Meteor Lake: First PC Chip Series to Feature TSMC Tech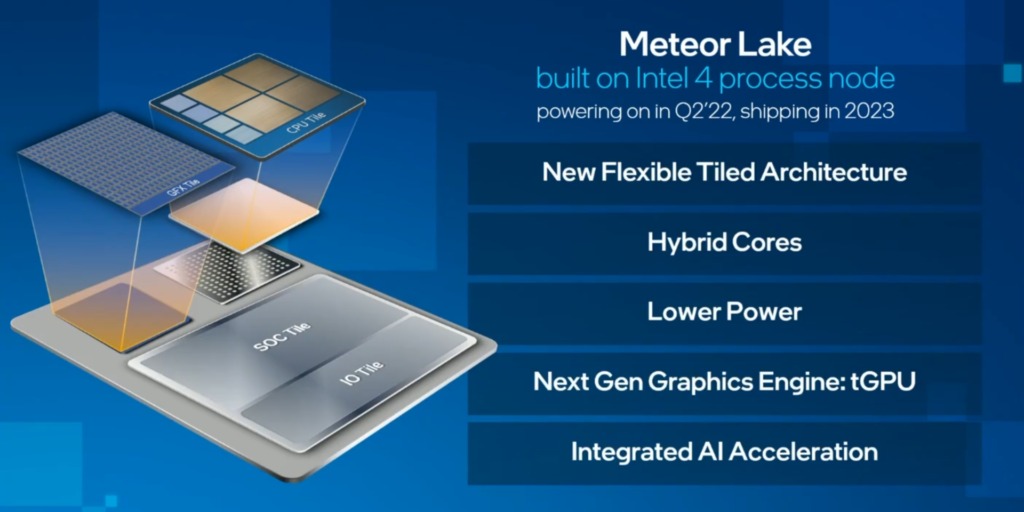 a) Release timeline and expectations
Firstly, Intel plans to release Meteor Lake -S processors for desktops soon[1]. However, there's a catch. Intel aims to target entry-level to mainstream segments only[1]. This decision may disappoint enthusiasts, but it shows Intel's commitment to a wider audience.
Moreover, as Intel continues to push out new CPU generations, Meteor Lake's launch may happen in 2023[3]. This timeline indicates the company's aggressive approach to staying competitive in the processor market.
b) Intel's new process technology
In addition, Meteor Lake will utilize Intel's 4 process technology[2]. This advanced process will likely improve performance and power efficiency. Furthermore, the upcoming Arrow Lake CPU tile will employ a more advanced 20A process node[2].
Not only does this demonstrate Intel's focus on refining their technology, but it also highlights their commitment to innovation. As a result, consumers can expect more powerful and efficient CPUs in the future.
c) Modular design approach
Intel's modular approach allows for greater flexibility. They can swap in new tiles to create faster next-gen chips[2]. As a result, this strategy may lead to improved performance and efficiency.
Additionally, this modular design enables Intel to respond more quickly to market changes. For instance, they can incorporate new technologies or features without needing to redesign the entire processor. This adaptability will be crucial for staying competitive in the rapidly evolving tech landscape.
d) Rumors and speculations
Regarding rumors, we might see the launch of 14th-generation Meteor Lake processors in 2023[3]. Finally, we expect these new CPUs to deliver remarkable performance compared to their predecessors.
Although there is still limited information on the exact specifications, Meteor Lake processors are likely to be a game changer. As we approach the release date, we anticipate more detailed information will emerge. This will help us better understand the true potential of these exciting new processors.
AMD Zen 5
a) Overview of AMD's Zen architecture
The history of AMD's Zen architecture is fascinating. It has evolved significantly since its introduction. As a result, AMD has become a fierce competitor against Intel in the CPU market. This rivalry has brought about remarkable innovations and technological advancements.
Moreover, Zen's evolution has consistently pushed the boundaries of performance and efficiency. With each new generation, AMD strives to deliver a better experience for consumers. Consequently, the upcoming Zen 5 architecture is expected to continue this trend.
b) Zen 5 features and improvements
Predictably, AMD's Zen 5 architecture will bring about performance enhancements. Although specific details are scarce, it's safe to assume that Zen 5 will surpass its predecessors. Improved performance will likely cater to both gaming and productivity needs.
In addition to performance, power efficiency and thermal management are crucial aspects of modern CPUs. The Zen 5 architecture is expected to excel in these areas as well. As a result, users can anticipate quieter and more energy-efficient systems.
c) Release timeline and expectations
Currently, there's limited information regarding the exact release window for Zen 5 CPUs. Nevertheless, it's reasonable to expect AMD to maintain its aggressive release schedule. This approach will ensure that they remain competitive against Intel's offerings.
As for the targeted market segments, AMD has traditionally targeted a wide range of consumer needs. From budget-conscious users to hardcore gamers and professionals, Zen 5 is expected to cater to various segments. As more information becomes available, we'll gain a better understanding of what to expect from AMD's Zen 5 lineup.
Great CPU Options for Your Gaming PC While Waiting for Meteor Lake and Zen 5
a) Intel alternatives
If you're considering upgrading your CPU before Meteor Lake arrives, Intel has some excellent options. For instance, the 11th-generation Intel Core processors, also known as Rocket Lake, offer solid performance. These chips are compatible with many existing motherboards, making the upgrade process easier.
Additionally, the 12th-generation Intel Alder Lake processors are worth considering. They deliver impressive performance gains and power efficiency improvements over previous generations. Alder Lake chips feature a hybrid design, combining high-performance cores with energy-efficient cores for a balanced computing experience.
b) AMD alternatives
On the AMD side, the Ryzen 5000 series, based on the Zen 3 architecture, is a fantastic choice. These CPUs provide excellent performance for gaming and productivity tasks. The Ryzen 5000 series also features improved power efficiency and higher clock speeds compared to previous generations.
Moreover, if you're on a tight budget, the Ryzen 3000 series, based on Zen 2 architecture, remains a competitive option. These processors still deliver strong performance at a more affordable price point. Whether you're building a gaming PC or upgrading an existing one, AMD's Ryzen 3000 and 5000 series CPUs are viable alternatives while waiting for Zen 5.
c) Finding the best CPU for your gaming PC
Ultimately, the best CPU for your needs will depend on your specific use case and budget. When choosing a processor, consider factors such as performance, power efficiency, and compatibility with your existing hardware. By evaluating your requirements and researching available options, you can make an informed decision on the perfect CPU for your system while waiting for Meteor Lake and Zen 5 to hit the market.
Conclusion
In conclusion, both Intel's Meteor Lake and AMD's Zen 5 architectures are expected to bring significant advancements in performance, power efficiency, and thermal management. As we eagerly await their arrival, there are already excellent CPU options available, such as Intel's 11th and 12th-generation processors and AMD's Ryzen 3000 and 5000 series. Ultimately, choosing the right CPU will depend on your specific needs, budget, and hardware compatibility. Keep an eye on the latest news and updates to make an informed decision when upgrading or building your next gaming PC.
Volta PC: Custom Your Gaming PC in Singapore
About Volta PC
For those in Singapore seeking an easy way to customize and upgrade their PCs, Volta PC is a fantastic solution. This online platform allows you to custom your computer with just a few clicks. With a vast selection of components available, creating your dream PC has never been more convenient.
Moreover, Volta PC caters to a wide range of budgets and preferences. Whether you're a casual user, a hardcore gamer, or a professional, you'll find the perfect components to suit your needs. The intuitive interface makes the entire process seamless and enjoyable.
Benefits of using Volta PC
One significant advantage of using Volta PC is the ability to handpick each component for your build. This level of customization ensures that your system is tailored to your specific requirements. Additionally, Volta PC offers excellent after-sales support and warranty services, giving you peace of mind.
Furthermore, Volta PC stays up-to-date with the latest hardware releases, including processors from Intel and AMD. As a result, when new CPUs like Meteor Lake and Zen 5 become available, you can easily upgrade your PC through the platform. To receive updates on new product arrivals, you have the option to subscribe to the newsletter.
Enjoy cutting-edge technology and top-notch service with Volta PC in Singapore.