Purpose built free to play PC gaming experience centre in Singapore
Did you know that there is a purpose built free to play PC gaming experience centre (a.k.a. free LAN shop) in Singapore? I didn't, until recently. If you're looking for a place to game online with your friends without spending any money, this is the place for you!

Here's a review of the free LAN shop in Singapore (probably the only free one in Singapore).

About VOLTA PC Experience Center
The VOLTA PC Experience Center launched in 2022 as part of their high-end PC brand called "VOLTA PC". The experience center was designed to encourage people to meet face-to-face and engage in some healthy connection outside of the online gaming sphere. If you and your friends are interested in PC games, it doesn't matter if you're a student, a twitch streamer, or an e-sports team, here is the place to be.
Also, you could perhaps connect with new people that share your passion for gaming. And if you enjoy PCs and want to purchase one for your personal use, simply talk with the staff, and they will gladly assist you. The PC comes with a 5-year warranty and a free upgrade service fee.
LOCATION AND TIMING
The center is easily accessible by MRT. The nearest MRT station is Tai Seng and you'll need to walk about 10-12 minutes (900 meters) in order get there.
Address
Quartz Industrial Building, 5 Upper Aljunied Link #06-05/06, Singapore 367903
Hours
Weekdays – 3PM – 12AM
Weekends – 11AM to 12AM
Off every Wednesday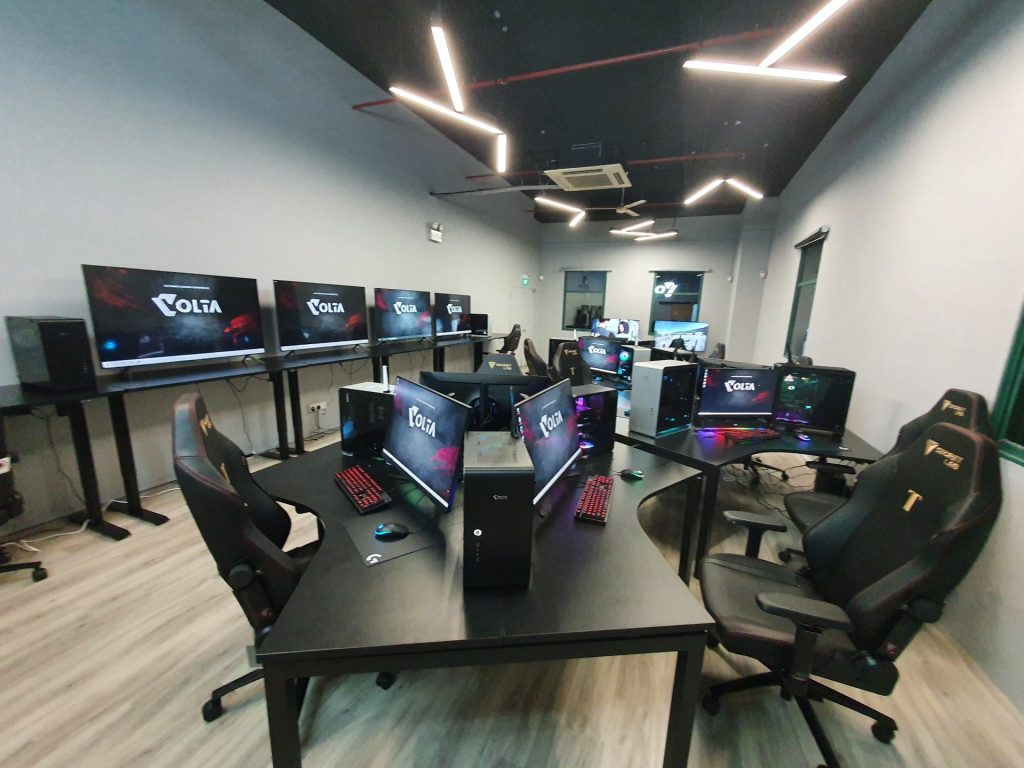 INSIDE THE CENTRE
Upon entering the hub, you will feel an immediate surge of excitement. The facility is outfitted with powerful gaming PCs. Several high-end gaming computers are available for use in the space.
We now have access to the latest and greatest GPUs. These cards provide a massive performance boost that will significantly improve your gaming experience.
GPU RTX 3060 TI, GPU RTX 3070 TI, and GPU RTX 3080 TI are all available for you to try out.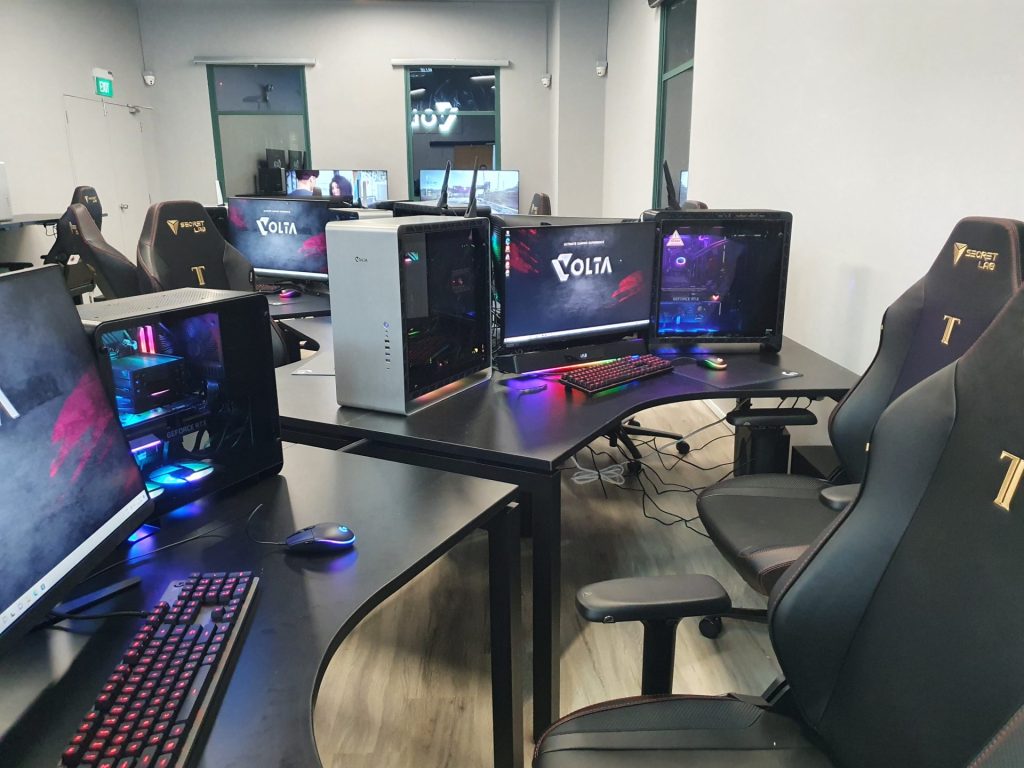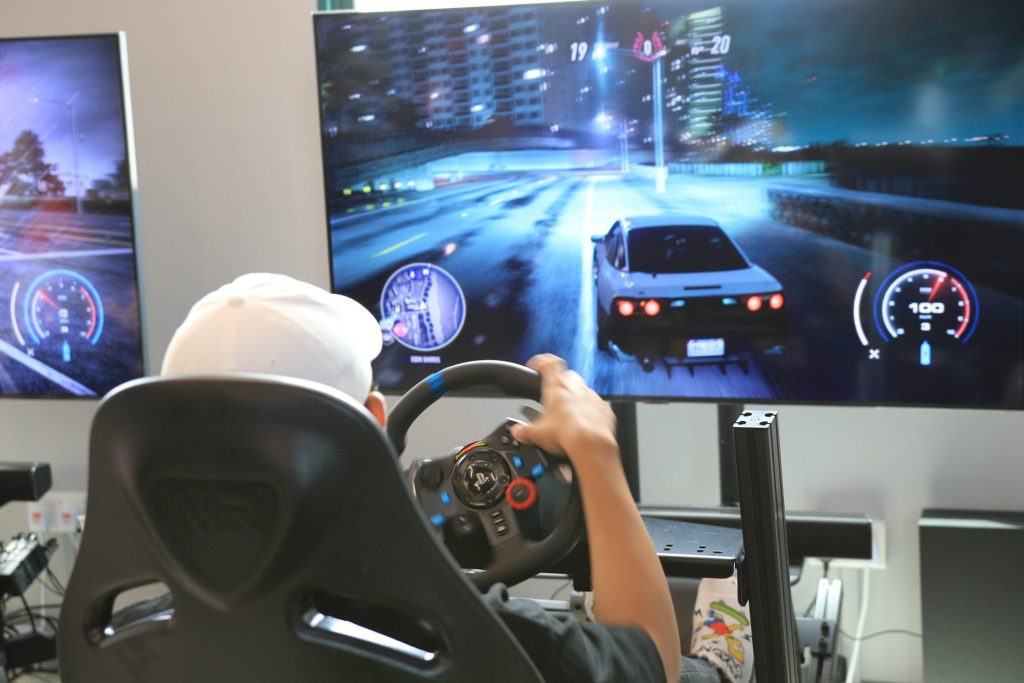 Which Model should you choose?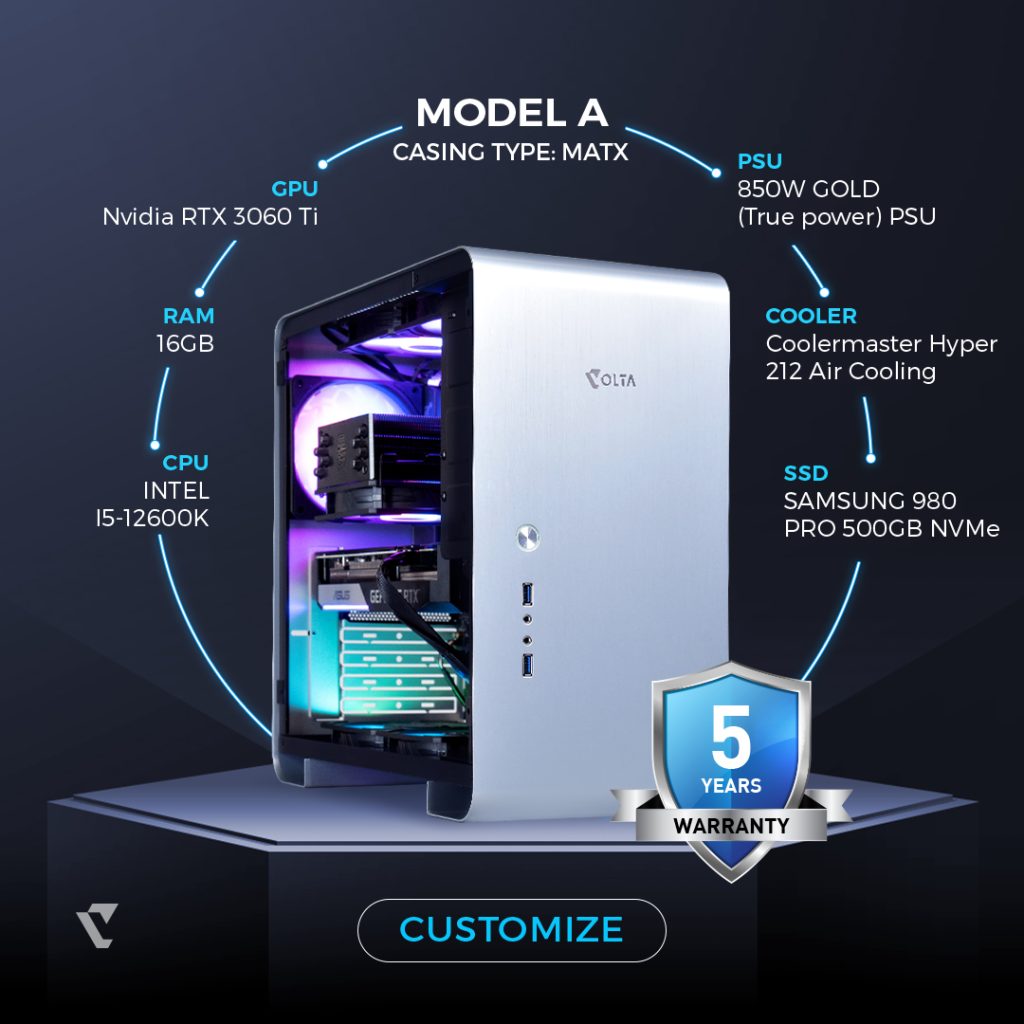 Model A
CPU: INTEL I5-12600K
RAM: 16GB
GPU: Nvidia RTX 3060 Ti
PSU: 850W GOLD (True Power) PSU
Cooler: Coolermaster Hyper 212 Air Cooling
SSD: 500Gb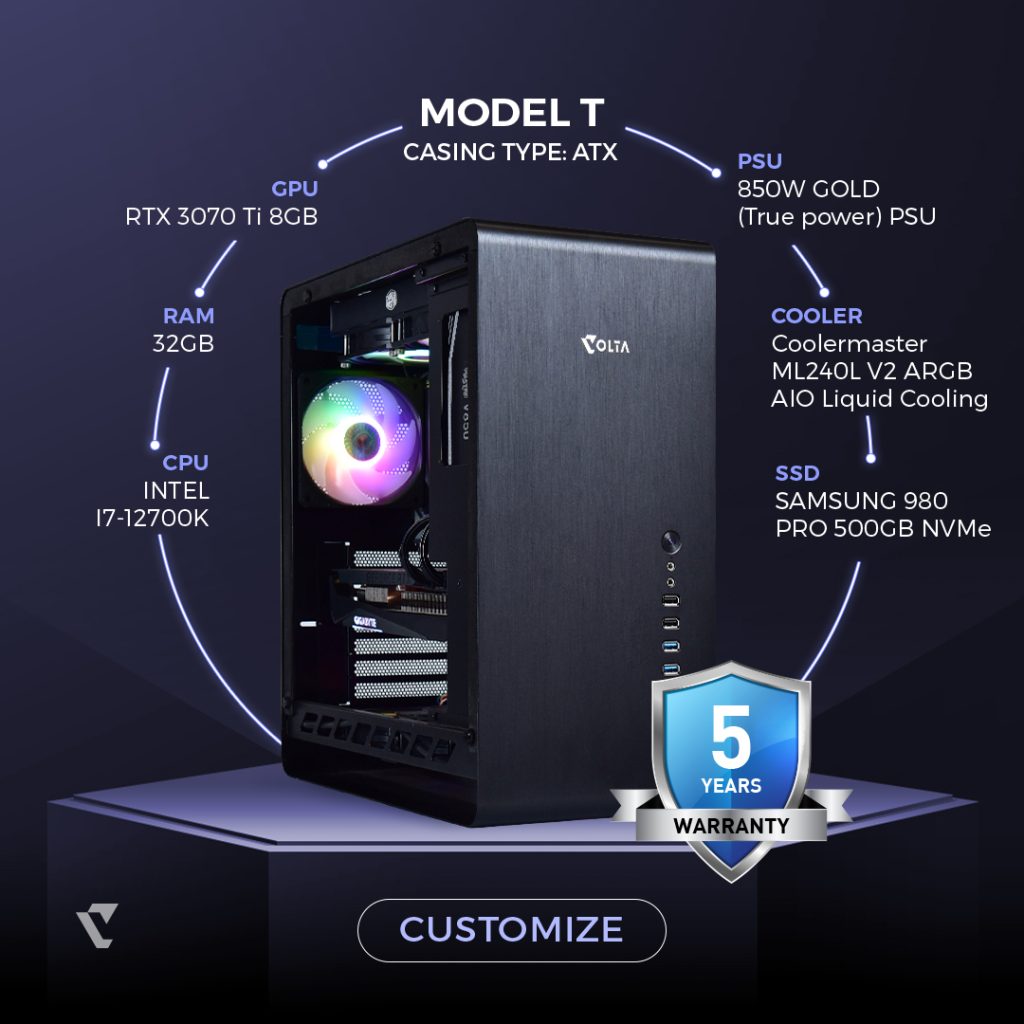 Model T
CPU: INTEL I7-12700K
RAM: 32GB
GPU: RTX 3070 Ti 8Gb
PSU: 850W GOLD (True power) PSU
Cooler: Coolermaster ML240L V2 ARGB AIO Liquid Cooling
SSD: SAMSUNG 980 PRO 500GB NVMe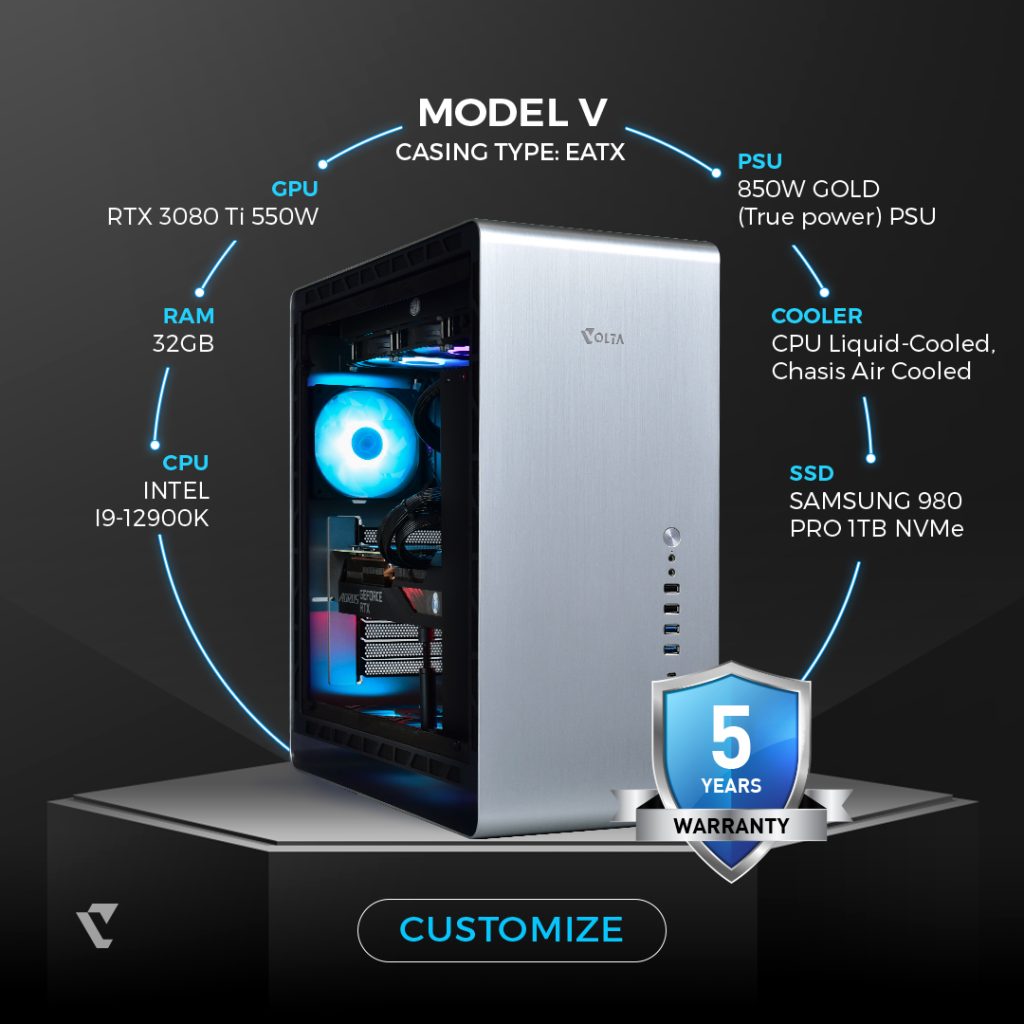 Model V
CPU: INTEL I9-12900K
RAM: 32GB
GPU: RTX 3080 Ti 550W
Mainboard: Z690
PSU: 850W GOLD (True power) PSU
Cooler: CPU Liquid-Cooled, Chasis Air Cooled
SSD: SAMSUNG 980 PRO 1TB NVMe
What are you waiting for?