Are you on the hunt for a light gaming laptop? Look no further! This guide will help you understand the key features of lightweight gaming laptops. Moreover, it will provide suggestions for top-performing models across different price ranges. Read on and make an informed decision on your next purchase!
Understanding Your Gaming Needs
Firstly, knowing your gaming needs is crucial. It helps in decision-making. For instance, it guides your hardware choices. Furthermore, it affects your software needs. It even influences your choice of games. Plus, it can guide your time management.
Secondly, think about your preferred game genres. They could be action, adventure, puzzle, or simulation. Understanding your preference is key. It helps in choosing games that you'll enjoy. Surprisingly, your genre choice can also influence your hardware needs. For example, action games often require powerful hardware. Conversely, puzzle games may require less.
Thirdly, consider your existing hardware. Particularly, your computer or console's specifications. Different games need different system specs. For instance, high-demand games might struggle on a low-end computer. So, knowing your current hardware can prevent frustration.
Also, your budget is another key point. Gaming can be an expensive hobby. Being aware of your finances is essential. It guides decisions on hardware upgrades. Additionally, it helps decide which games to buy. As a matter of fact, some games may have additional costs. For instance, downloadable content or subscriptions.
Lastly, your gaming needs affect time management. Gaming can consume a lot of time. Balancing it with other responsibilities is important. This includes work, school, and family time. Knowing how much time you can give to gaming helps. It prevents gaming from interfering with other obligations.
In conclusion, understanding your gaming needs is fundamental. It aids in making decisions about hardware, software, and games. Not to mention, it helps with budgeting and time management. Taking time to understand your needs will surely enhance your gaming experience.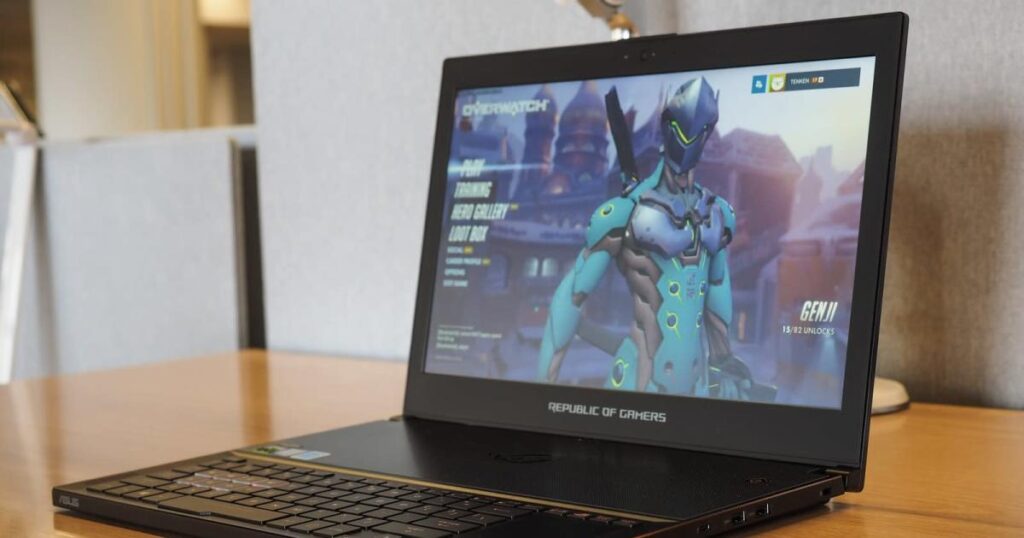 Essential Features of a Light Gaming Laptop
Processor (CPU)
The central processing unit (CPU) acts as the brain of your laptop. It's responsible for executing gaming instructions. For gaming, Intel Core i5 or i7, or AMD Ryzen 5 or 7 processors are commonly recommended. These CPUs have multiple cores which can handle heavy gaming tasks efficiently. Moreover, they also have higher clock speeds, improving the responsiveness of your games.
Graphics Card (GPU)
The Graphics Processing Unit (GPU) renders images on your screen. High-performance GPUs like NVIDIA RTX series or AMD Radeon RX series provide better graphics quality. They also support advanced gaming features, such as real-time ray tracing, making your games more immersive and visually stunning.
RAM
RAM, or Random Access Memory, temporarily stores data for quick access. A larger RAM (at least 16GB for casual gaming, 32GB or more for heavier games) allows for smoother game performance, as it can store more data.
Storage
Games can take up a lot of space, so ample storage is necessary. You have two types of storage options: Hard Disk Drive (HDD) and Solid State Drive (SSD). HDDs are cheaper but slower, whereas SSDs are faster but more expensive. SSDs are usually recommended for gaming due to their faster load times.
Display
A high-quality display enhances your gaming experience. Consider a screen size of 15-17 inches for a good balance between portability and immersive gameplay. For resolution, a Full HD (1920×1080) display is standard, but 4K displays offer even sharper visuals. Lastly, consider a higher refresh rate (120Hz or 144Hz) for smoother motion and less blur in fast-paced games.
A comfortable and responsive keyboard with key travel and backlighting can improve your gaming experience. The touchpad should also be precise and smooth, although most gamers prefer using an external gaming mouse.
Battery Life
Gaming consumes battery power quickly, so a laptop with a long battery life is advantageous. However, keep in mind that high-performance hardware consumes more power, so you might need to compromise between power and battery life.
Connectivity
Good connectivity options are also crucial. A strong and reliable Wi-Fi connection is necessary for online gaming. Bluetooth allows for the connection of wireless peripherals. Various ports, like USB and HDMI, allow for the connection of external devices and monitors.
Audio
High-quality speakers enhance the immersive feel of games. Some laptops come with advanced audio features like spatial audio for 3D sound or Dolby Atmos support.
Cooling System
Gaming laptops generate a lot of heat. A good cooling system, preferably with multiple fans and heat pipes, is necessary to prevent overheating, ensure stable performance, and prolong the lifespan of the laptop.
In conclusion, when choosing a lightweight gaming laptop, consider these features. They greatly influence your gaming experience. Choosing wisely will ensure a smooth and immersive gaming experience​.
Differences between a standard gaming laptop and a light gaming laptop
Size and Weight
This is the most obvious difference. Standard gaming laptops often come with larger displays (17 inches or more) and heavier bodies due to the high-performance components they house. This makes them less portable. On the other hand, lightweight gaming laptops aim for a balance between performance and portability. They usually have smaller displays (13 to 15 inches) and lighter bodies, making them easier to carry around.
Performance
Standard gaming laptops usually house top-tier components like the most powerful CPUs and GPUs, abundant RAM, and ample storage. They're designed to handle the most demanding games without breaking a sweat. Lightweight gaming laptops, while still capable, may make some compromises on the internal hardware to maintain their slim form factor. They often house mid-range CPUs and GPUs to reduce heat output and power consumption.
Battery Life
Standard gaming laptops tend to prioritize performance over battery life. Their high-performance components consume a lot of power, which can drain the battery quickly. Lightweight gaming laptops, with their less power-hungry components, often have longer battery life, which is essential for mobility.
Cooling System
High-performance components in standard gaming laptops generate a lot of heat, so these laptops usually have advanced cooling systems, often with multiple fans and large heat pipes. Lightweight gaming laptops, on the other hand, have less space for cooling solutions due to their slim design. They rely on more energy-efficient components and clever engineering to manage heat.
Price
Standard gaming laptops, with their top-of-the-line hardware, tend to be more expensive. Lightweight gaming laptops, while not necessarily cheap, are often more affordable due to their mid-range components.
In conclusion, the choice between a standard gaming laptop and a lightweight gaming laptop comes down to your specific needs. If you value performance above all and don't mind a larger, heavier machine, a standard gaming laptop may be the best choice. However, if portability and battery life are important to you, and you're okay with slightly less gaming performance, a lightweight gaming laptop could be the better option​.
The Best Light Gaming Laptop in 2023
The GIGABYTE AERO 16 (2.3 KG)
The GIGABYTE AERO 16 stands out as a compelling choice for those in the market for a lightweight gaming laptop. Equipped with a powerful Intel Core i9-12900HK or Intel Core i7-12700H CPU, it is ready to handle heavy gaming loads and other demanding tasks. Furthermore, the laptop offers a selection of high-performance GPUs: NVIDIA GeForce RTX 3060, RTX 3080 Ti, or RTX 3070 Ti. This ensures smooth gameplay and a remarkable visual experience, especially when combined with the laptop's 16.0″ display, which offers a choice between a WQXGA (2560 x 1600), 165 Hz, IPS panel or a WQUXGA (3840 x 2400), OLED panel.
The laptop also boasts up to 2000GB of SSD storage and up to 16GB of RAM, providing ample space for games and efficient multitasking. Despite its powerful specifications, the AERO 16 maintains a slim profile with dimensions of 356 x 248.5 x 22.4 mm (14.02″ x 9.78″ x 0.88″) and a weight of just 2.30 kg (5.1 lbs). This makes it a portable option that doesn't compromise on performance.
Additionally, it provides various connectivity options, including USB Type-C and Thunderbolt 4 ports, and wireless connectivity via Wi-Fi 802.11ax and Bluetooth 5.2. The laptop also features a backlit keyboard for a better gaming experience in low-light conditions and an HD web camera for online gaming sessions. It's worth noting, however, that it doesn't come with a card reader, Ethernet LAN, optical drive, or security lock slot. Overall, the GIGABYTE AERO 16 is an excellent option if you're looking for a high-performing gaming laptop that maintains a lightweight design.
ASUS TUF Gaming F15 (2.2 KG)
This gaming laptop is powered by an Intel Core i7-12700H processor. Plus, it features the NVIDIA GeForce RTX 4070 laptop video card​1​. As a result, it delivers impressive gaming performance.
In terms of memory, it boasts 16GB of RAM. Also, it provides ample storage with a 1000GB SSD. For users needing more memory, there's an option with 32GB of RAM​.
The design is robust and durable. Indeed, the TUF Gaming F15 has a metal lid and a plastic chassis. Moreover, they resist flexing attempts. Unlike the RGB-infused ROG laptops, the TUF series presents a more industrial look​. Interestingly, this laptop isn't heavy. It weighs 2.20 kg and has a profile of 24.9 mm. Therefore, it's quite portable despite its tough shell and powerful hardware​.
As for the display, even the base model offers an upgrade. It features a Full HD 144Hz IPS panel with 100% sRGB coverage. Moreover, it includes G-Sync, a MUX switch, and NVIDIA Advanced Optimus. Furthermore, there's a QHD panel option with 100% DCI-P3 color coverage and a 165Hz refresh rate​.
Moving onto the CPUs, it offers the Core i7-12700H from last year. Additionally, it introduces the new Core i7-13700H and Core i9-13900H. All three CPUs have 14 cores and 20 threads, promising similar performance. Nevertheless, the new Raptor Lake CPUs provide a performance boost over the Alder Lake CPUs​.
In terms of graphics, it includes the 140W versions of the RTX 4050, RTX 4060, and RTX 4070. So far, the GPUs haven't hit their power targets. However, they've been running at pretty high clock speeds. Hence, more testing is needed to determine the performance of the 40-series GPUs in different scenarios​.
ASUS ROG Zephyrus M16 (1.9 KG)
The ASUS TUF Gaming F15 (FX507, 2023) is a powerful gaming laptop packed with impressive hardware. The heart of this machine is an Intel Core i7-12700H processor, combined with NVIDIA's GeForce RTX 4070 (Laptop, 140W) graphics card. Depending on the model, it can come with either 16GB or 32GB of RAM, and all models feature a spacious 1000GB SSD for storage​.
In terms of design, the ASUS TUF Gaming F15 is well-built, featuring a metal lid and a plastic chassis. Despite its sturdy construction and high-performance components, it maintains a relatively low weight of 2.20 kg, with a profile of 24.9 mm. This model has a more subtle, militaristic design compared to the more RGB-infused ROG laptops from ASUS​.
The laptop also offers a good selection of ports for connectivity. It includes two USB Type-A 3.2 (Gen. 1) ports, one USB Type-C 3.2 (Gen. 2) port, a single Thunderbolt 4 port, an HDMI 2.1 port, a LAN port, and a 3.5 mm audio jack​.
The display of this laptop has seen improvements from previous models. Now, even the base model comes with a Full HD 144Hz IPS panel featuring 100% sRGB coverage, G-Sync, a MUX switch, and NVIDIA Advanced Optimus. There's also an option for a QHD panel, which offers higher 100% DCI-P3 color coverage and a 165Hz refresh rate​.
Conclusion
In conclusion, a light gaming laptop offer a unique combination of portability and performance. From budget-friendly to high-end models, there's a lightweight gaming laptop for everyone. However, remember that the best laptop for you depends on your specific needs and preferences.
Are you interested in purchasing one of these lightweight gaming laptops? Check out VOLTA PC in Singapore! Although specific information about VOLTA PC's current offerings isn't readily available, they're known for their high-quality gaming laptops. Explore their selection, and you might just find the perfect gaming companion for your needs!