Gaming laptop or gaming PC? It is one of the most common debates on the Internet amongst gamers nowadays. When deciding which one to get, there are a few important factors to keep in mind. Gaming laptops are portable, which means that you can game anywhere you go (with free wifi, of course). Gaming PCs, on the other hand, tend to be larger, cheaper and more customizable. Both are excellent options in their own right, but both also have their strengths and weaknesses. We at Volta PC will cover both sides, so you can decide what's best for you.
1. Performance
Image taken from Intel.
Nowadays, performances for both gaming laptops and gaming PCs are very comparable. Often, you will find that both machine types allow you to play any game there is on the market. The performance gap is thus very, very narrow. Hence, this criteria should not be the deal breaker for you when deciding whether to get a gaming laptop or gaming PC.
Gaming Laptop
Gaming laptops these days have the capability to be packing a GPU as strong as the RTX 4090 and CPU as strong as the latest Intel 13th Gen Processors. Therefore, there are really little to no disadvantages to gaming performances whether you are gaming on a laptop or gaming PC. However, it is true that most gaming laptops are not cooled properly by their manufacturers, but luckily, they are customizable (to a certain degree). We will mention it later in the 'Customizable' section, but basically, you are able to replace the factory's thermal paste with your own should you choose. This has a sizable effect on general laptop performances, not just gaming, according to Kooling Monster.
Gaming PC
Whereas for gaming PCs, especially custom ones (which Volta PC does provide), you can apply your desired thermal paste onto the CPU the moment it is built, so there is no need to replace them until it gets old. Gaming PC performance is heavily tied to its customizability, which we will talk more about below. Gamers get to choose whichever components they want to fit into their custom gaming PCs to suit their gaming needs. Of course, the better the quality of the components, the better the gaming performance. Same for gaming laptops. So, it is true that performances for both gaming laptops and PCs can be around the same in 2023.
2. Portability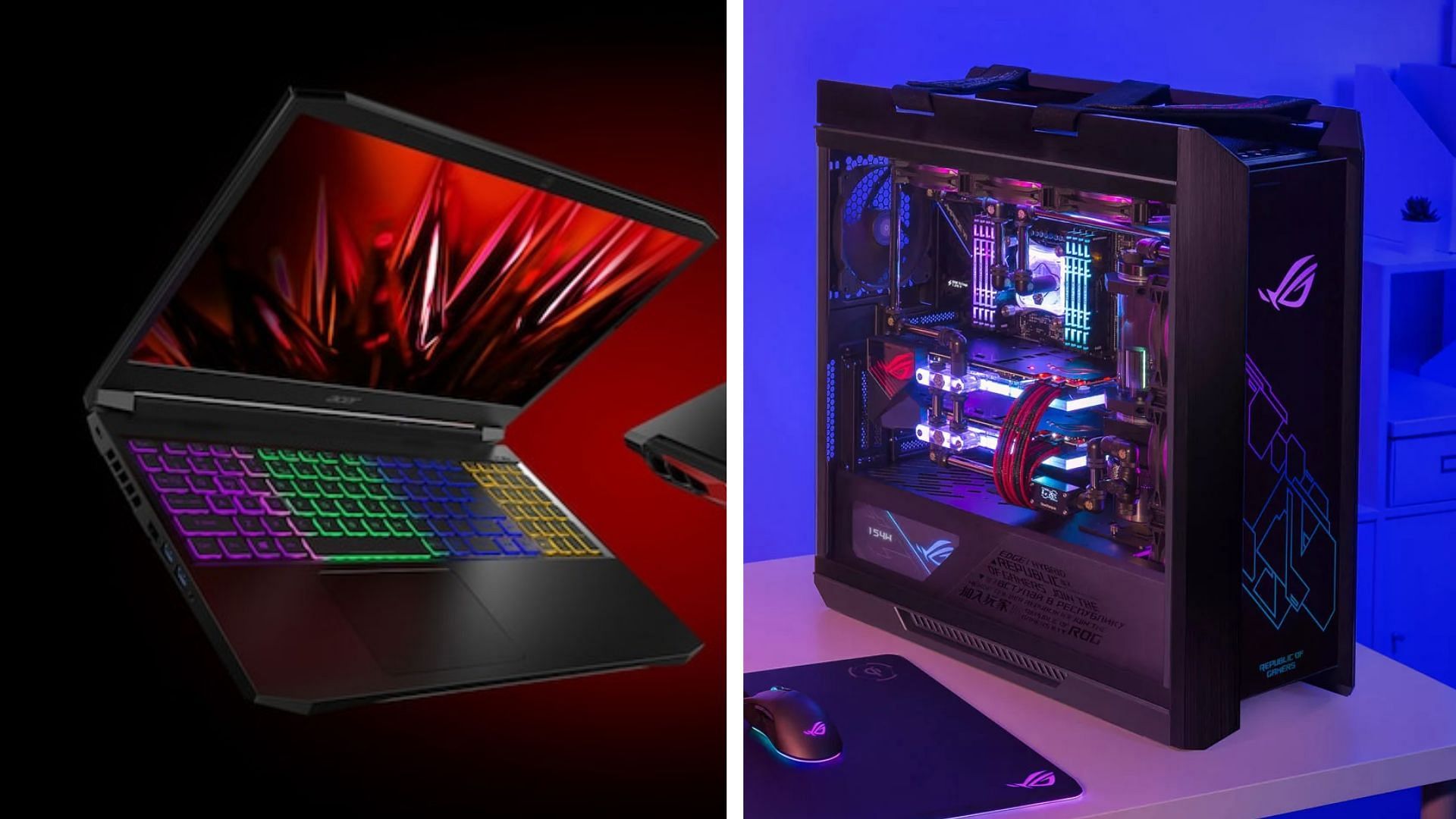 Image taken from Sportskeeda.
When you are thinking between a gaming laptop or a gaming PC, the first question that you should consider is if portability is important.
Gaming laptop
The primary strength of a gaming laptop is its portability. With its ability to match up to a gaming PC for gaming performance, you will be able to game from anywhere you so desire.
If you're someone who is often on the go, then a gaming laptop might be the better option. The flexibility of portability can be hugely beneficial to you. Gaming laptop companies have been racing to make the slimmest, most portable gaming laptop which still offers the same level of gaming performances as the high-end, beefier ones. As newer gaming laptops get more compact, you can pretty much game in your local coffee shop, or even on the plane! The options are limitless, with high portability.
While gaming laptops run on battery, and come with an in-built trackpad, screen and keyboard, you can also have a gaming-PC-like experience at home with the right peripherals. Most gamers game with a mouse, so that's a given. You can also improve your gaming laptop setup with an external display and keyboard. This improves versatility as well, as not only can you game with the laptop alone, you can also game within the comforts of your own home with your ideal peripherals. Once you need to leave, you can just unplug the gaming laptop from your peripherals and you are ready to go! Hence, the portability and added versatility of gaming laptops is mostly unmatched with gaming PCs.
Gaming PC
Gaming PCs, on the other hand, have minimal portability. Most of the gaming towers cannot be brought along with you as you travel, much less power up for you to game on while on your daily train commute. All gaming PCs require an external display and accessories to play, which makes it cumbersome to fire up while waiting for a friend at Starbucks. Even though there are small, form-factor cases out there to minimize the weight, the lack of peripherals causes gaming PCs to lack portability. Hence, most people who own gaming PCs keep their gaming experience to one location.
Which to choose then? It depends on your priorities as a gamer. Do you require your gaming station to be portable? If so, then a gaming laptop would be a better option for you. If portability is not a concern, then by all means, get a gaming PC. The price of a custom gaming PC here at Volta PC (or anywhere else) is significantly cheaper than a gaming laptop for the same components. This is because the components itself (CPU, GPU etc.) is cheaper when you purchase it separately, rather than a pre-built gaming laptop or PC. Furthermore, the cost of building the laptop is also factored into the price. This is what differentiates a gaming laptop from a gaming PC the most. Gaming laptops are always going to be way more expensive than custom-built gaming PCs, so take that into consideration as well when you are making your decision.
3. Customization
The degree of customizability differs greatly between gaming laptops and gaming PCs.
Gaming laptop
It does not mean that because a gaming laptop is portable, that means that it is the be-all-end-all solution to your gaming needs. It has its cons as well. With a slim form-factor, it is definitely harder to upgrade the components of a gaming laptop as compared to a gaming PC.
On many gaming laptops, the CPU and GPU is soldered on, which means that you cannot replace them. Your only solution is to buy a new laptop. This can be quite costly in the long run. Your only other option is to stick with your laptop for a few years until it is fully worn down before purchasing a new one. Bear in mind that when you are purchasing a gaming laptop, you should be clear about the specs of the device, what the CPU and GPU are because those cannot be swapped out. Storage and memory sticks, on the other hand, can be swapped out for most of the gaming laptops. Hence, there is still a degree of customizability there, just not a whole lot of it, unlike gaming PCs.
Gaming PC
On the other hand, you will not face such a problem with a gaming PC. Since nothing is soldered on, you can swap out old components for new ones without spending tons of money. You can even decide what kind of a PC case you want, how much RGB lights you want in your PC and more. Custom gaming PCs offer full customizability to gamers, down to the colour of wires running through the machine. Being customizable, it often costs less to build a gaming PC with the same components as a gaming laptop. Parts are often cheaper separate, and since you build it yourself, you don't have to pay a premium for your PC.
Should you be a beginner at building PCs, look no further than Volta PC! We offer building services for custom gaming PCs, and our pre-builts are also priced very reasonably. You can check us out here.
4. Pricing
We've mentioned often above that gaming laptops tend to be more expensive than their PC counterparts for similar components. This is the harsh reality that we live in right now.
Gaming laptop
Most gaming laptops tend to charge at a premium price because of the manpower cost for building and manufacturing the laptops. For example, Razer, a well-known gaming laptop company, is selling their flagship model, the Razer Blade 16, at SGD $7,099 with the highest specs a gaming laptop can hold right now; with the i9-13900k chip and the RTX 4090 built within.
Gaming PC
A gaming PC housing similar components would cost you way lesser, as shown below: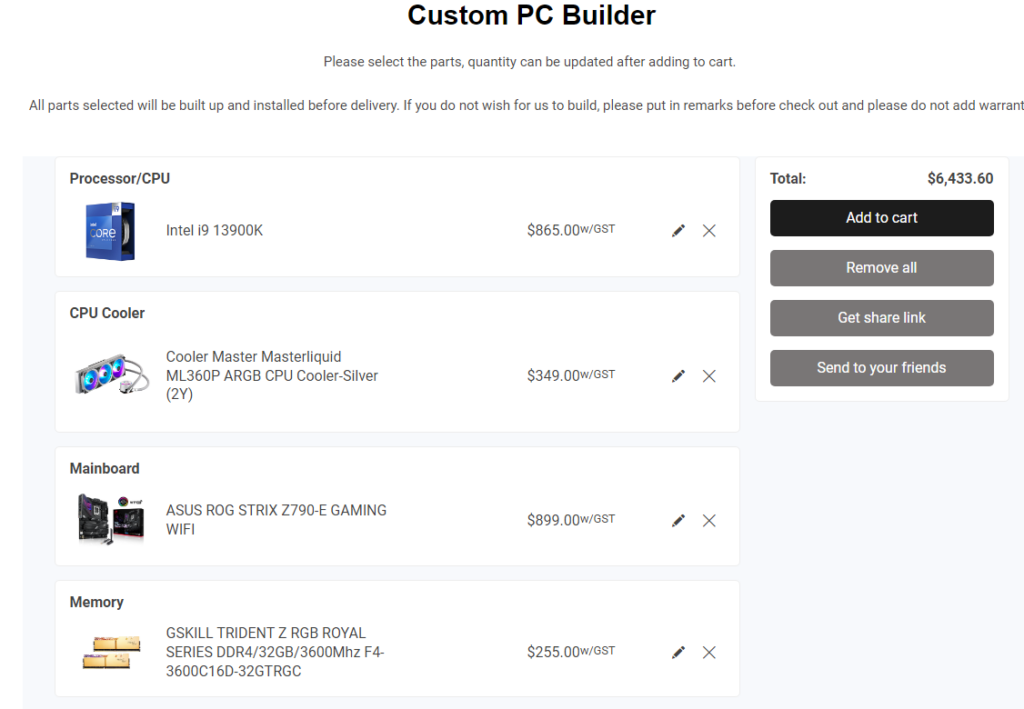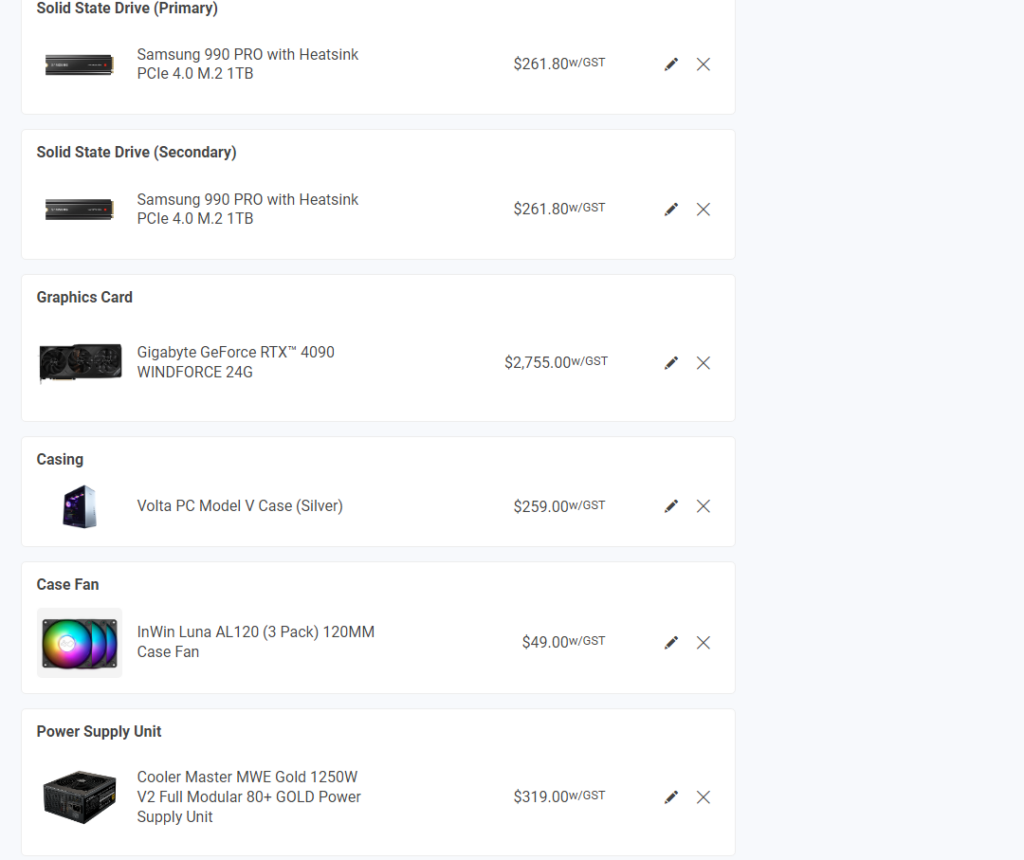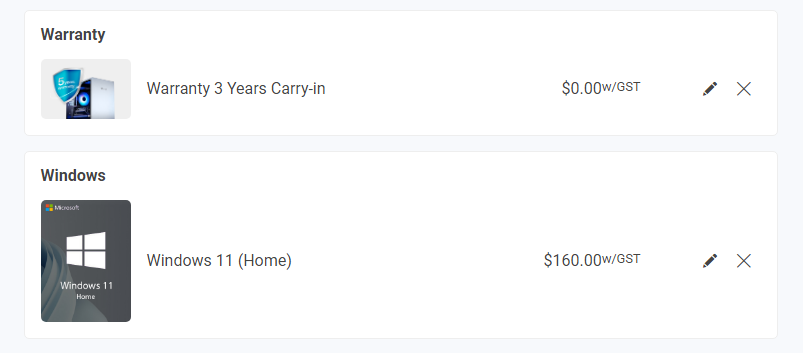 Images taken from Volta PC's custom PC building site (configuration done by me)
This is a similar configuration to the Razer Blade 16 linked above, and the price is only SGD $6,433.60, which is about a $600 price difference. This could be used to purchase high-end peripherals like monitors, gaming keyboards, mice, headphones etc. You can even check out some of our Creative products which are satisfying to use and worth the money! And if you already have all of these peripherals, then it is $600 saved when you purchase a PC instead of a gaming laptop. The only thing you lose is the portability, in which as mentioned earlier, if it is something you desire in a gaming device, then go for the gaming laptop.
Conclusion
Gaming laptops or gaming PCs, which is the better option in 2023? This question can only be answered based on your priorities. For us, the main consideration is portability. Do you want to be able to game at multiple locations? Or only from one? Should the answer be yes, then by all means, go for the gaming laptop. The performance is unmatched thus far (if you have the money to spare). Otherwise, we would strongly suggest go for the gaming PC option. For the amount you spend on a good gaming laptop, you can build an equally-good gaming PC. You will still have money to spare for upgrading your peripherals for a better gaming experience.
Check out our other articles here about games, gaming PCs and the like. Happy gaming!