If you are interested to know more about RAM's role in a computer, you can read about Von Neumann architecture. DDR4, and DDR5 RAM are currently the most widely used types in custom PC builds, providing faster speeds and improved performance with each generation. However, DDR6 RAM is set to be the next evolution in DDR RAM technology, offering even greater performance gains and improvements in power efficiency for custom and gaming PCs.
This article aims to provide a comparison of DDR4, DDR5, and DDR6 RAM (based on what we know so far), specifically for custom and gaming PC builders, highlighting their technical specifications, performance, compatibility, pricing, and appearance. By understanding the differences between each type of DDR RAM, custom and gaming PC builders can make informed decisions when selecting RAM for their systems, ultimately leading to better performance and an enhanced gaming experience.
Maximizing Custom PC Performance with DDR RAM's Memory Bandwidth and Data Transfer Rate
Memory bandwidth and data transfer rate are critical factors to consider when selecting DDR RAM for a custom PC build. The memory bandwidth of DDR RAM determines the amount of data that can be transferred between the memory and the CPU at any given time, while the data transfer rate determines how quickly that data can be transferred. DDR5 memory offers a significant improvement in memory bandwidth compared to DDR4, providing a 50% increase in bandwidth up to 4.8 GT/s with initial DDR5 DIMMs. This results in improved overall system performance, with faster load times and smoother gameplay in games.
Higher transfer speeds mean that the RAM can transfer more data in less time, leading to faster performance and smoother data access. This is especially important for high-demand applications, such as gaming and video editing, where large amounts of data need to be accessed quickly. In addition, higher transfer speeds can help reduce latency, which is the time it takes for the RAM to respond to requests for data. On paper, DDR5 RAM has double the latency of DDR4 (46ns versus 22ns) but this is negated by the fact that the bandwidth has almost doubled, meaning the same amount of data passes through in the same amount of time. For DDR4 and DDR5 the true system latency is always around 90ns i.e. using DDR5 doesn't retard the system in anyway, but it gives 1.5x the bandwidth.
DDR5 versus DDR6 Memory Bandwidth for Custom and Gaming PCs?
DDR5 memory offers a significant improvement in memory bandwidth compared to DDR4, providing a 50% increase in bandwidth up to 4.8 GT/s with initial DDR5 DIMMs. DDR6 memory is expected to be up to twice as fast as DDR5 memory, providing even faster memory bandwidth and better system performance for custom and gaming PCs. Samsung announced last year that it had begun early development of DDR6 memory using MSAP technology with the aim of delivering speeds of up to 16.8GT/s.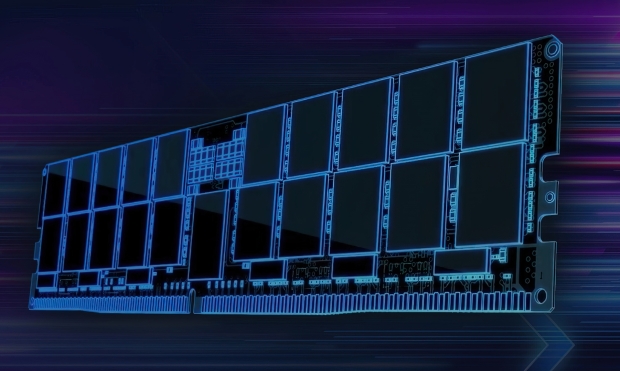 Overclocking Potential and Advancements
Custom PC builders should take note of DDR5 RAM's impressive overclocking potential. Gigabyte's in-house overclocker, HiCookie, recently achieved a world record raw, single channel bandwidth of 11Gb/s on an Intel Z790 machine, exceeding the standard DDR5 data transfer rate of 8.4 GT/s. DDR6 RAM is currently in development and expected to offer even faster data transfer rates of up to 17,000 Mbps. These advancements in RAM technology will undoubtedly continue to push the limits of custom PC performance, providing builders with more options for optimizing their systems.
Different Voltage Requirements of DDR RAM
The different types of RAM used in custom PCs have varying voltage requirements. DDR3 RAM typically operates at 1.5 volts, while DDR4 RAM operates at a lower 1.2 volts. DDR5 RAM operates at a voltage range of 1.1 volts, offering flexibility in power consumption for increased efficiency and performance.
DDR6 RAM is expected to operate at an even lower voltage than DDR5, with some reports suggesting it could operate at voltages as low as 0.6 volts. This reduction in voltage would further reduce power consumption and heat generation, resulting in a more efficient and cooler-running system.
Experiencing RAM Performance
While performance benchmarks and technical specifications provide valuable information, it's also important to experience the difference in RAM performance firsthand. For those considering building a custom PC, taking a look at videos showcasing the difference in RAM performance can be beneficial. These videos often demonstrate the impact of RAM type and speed on system performance, providing a tangible sense of how different RAM types affect system speed and responsiveness.
By seeing the difference in performance between DDR3, DDR4, and DDR5 RAM in action, custom PC builders can get a better sense of which RAM type is best suited for their specific needs.
Pricing Considerations
While pricing for DDR5 RAM can vary depending on the manufacturer and specific model, it is generally more expensive than DDR4 RAM due to its newer technology and limited availability. DDR3 RAM is typically the most affordable option, with DDR4 RAM being the most commonly used type in custom PCs and readily available at various price points.
It's important to consider the specific needs and requirements of the custom PC build when selecting RAM and to weigh the performance benefits against the price point. If you're looking to upgrade to the latest technology, our store has a selection of DDR5 and DDR4 RAM available for purchase.
Conclusion
Selecting the right type of RAM is crucial for building a custom or gaming PC that meets your needs, budget, and motherboard compatibility. Checking RAM and motherboard compatibility is crucial for ensuring optimal system performance and stability. You can use helpful tools like Crucial Advisor or System Scanner to find the right memory modules that fit your custom or gaming PC's requirements. Some motherboards may also have limitations on the total amount of RAM that can be installed or may require a specific configuration, such as installing RAM in pairs.
Alternatively you can use our PC customiser function to ensure that the parts you have selected are compatible.
As technology advances, newer RAM standards like DDR6 will undoubtedly push the limits of custom PC performance even further. At our online store, we offer a range of hardware upgrades to meet your specific needs and budget. Whether you're looking to upgrade your RAM or other components, click to view more hardware upgrades and build the custom PC of your dreams.