Last year in June, Nvidia launched a new gaming flagship GPU of the family RTX. The improved gaming GPU, RTX 3080 Ti took the place of RTX 3080 with some tweaking in terms of performance and specs. However, both of them are from Nvidia's 30-Series graphics card line-up and share a lot of high-end specs, including DLSS and ray tracing.
So, what are the main differences between the Ti and non-Ti versions of RTX 3080? Which GPU should you choose for your gaming PC?
Well, nothing to worry about. We've sorted this out for you.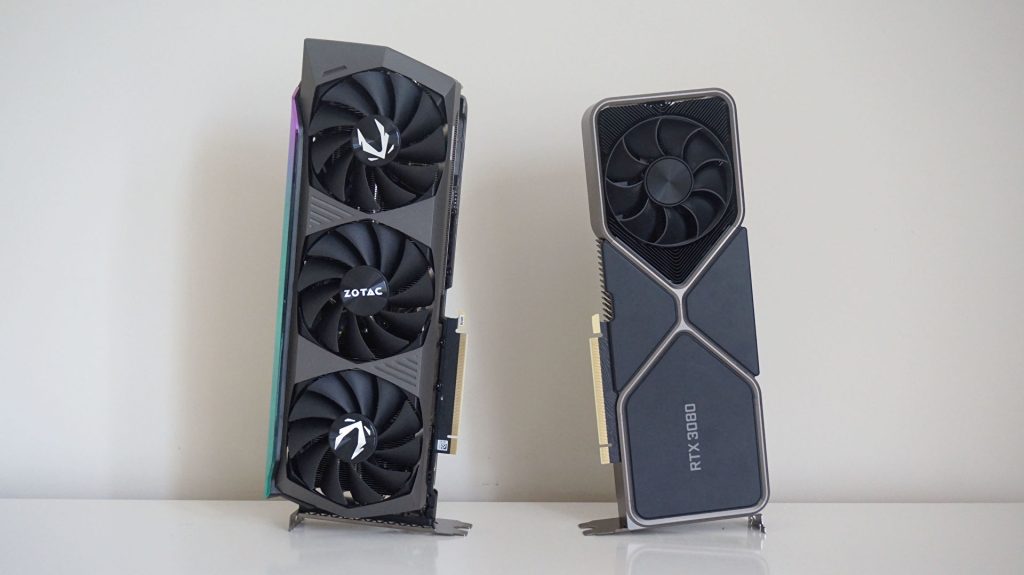 RTX 3080 Ti is 70% more expensive than RTX 3080
The RTX 3080 Ti costs you almost twice as compared to RTX 3080. It becomes hard to get the GPUs during the global pandemic as they are mostly out of stock or listed at significantly high prices at some stores.
We had checked the price with a few suppliers in Singapore, including BUDGET PC UPGRADE & REPAIR; the current starting prices for RTX 3080 and RTX 380 Ti are SGD 950 and SGD 1520, respectively.
The physical size of the card
Nvidia kept the size of the RTX 3080 Ti the same as the original RTX 3080, which means it is 4.4 inches thick and 11.2 inches long with three fans. RTX 3080 is more power-efficient than RTX 3080 Ti as it consumes just 320 watts while RTX 3080 Ti consumes more power (using up to 350 watts). The higher power consumption of RTX 3080 Ti requires you to get a better PSU to overclock the 3080Ti.
RTX 3080 Ti offers more superior performance for your gaming PC
As aforementioned, RTX 3080 Ti is far more superior in terms of performance as it can effortlessly handle more graphics demanding games. Both graphic cards have some specs in common, including Nvidia's 3rd generation tensor cores, DLSS, and the support for ray tracing.
Some of the main differences between the two are mentioned below.
VRAM COMPARISION
3080 Ti comes with 12GB of GDDR6X compared to 10GB on RTX 3080, enabling 3080 Ti to perform much better while running 4K graphics on your PC. RTX 3080 Ti features more tensor cores and RT cores to handle DLSS and ray tracing. As far as performance in 4K is concerned, 3080 Ti has an edge of 10FPS for older games over 3080.
2. CUDA CORES COMPARISON
RTX 3080 Ti features 10,420 CUDA cores (3080 Ti) as compared to 8,704 CUDA cores (3080) of RTX 3080. Having more cores means a clearer and more lifelike graphics experience.
3. PERFORMANCE TESTING
There's no doubt that RTX 3080 Ti is an incredibly fast and high-performing GPU available today. The specs of RTX 3080 Ti are pretty similar to RTX 3090, and the performance looks a lot closer to 3090.
In conclusion, if you want that additional boost in gaming performance and have a truly nice display that can represent the performance and power of the RTX 3080 Ti, the RTX 3080 Ti is worth the investment.
There are several similarities between the 3080 and the 3080 Ti. However, the performance that 3080 Ti delivers is superior to 3080. As long as your display is up to par in terms of resolution and color accuracy, the RTX 3080 Ti is well worth the price tag for gamers in search of an edge.
Check out VOLTA if you live in Singapore and are searching for a new gaming PC. Visit the website at www.voltapc.sg to see their top-of-the-line machines powered by RTX 3080 and 3080 Ti.
Note
All articles must have disclaimer at the end that this article is the opinion of the author and does not represent the opinion of VOLTAPC.