Investing in a top-notch graphics card is essential to build the greatest gaming PC. After all, the power of your gaming PC is directly proportional to the quality of your graphics card. As a result, video games have become increasingly resource-intensive in recent years, making a significant investment in a strong graphics card a sound investment. However, if you play your games at a set resolution, you may be able to keep your spending under control. To help you choose the best graphics card for your PC, we've included alternatives for high-end, mid-range, and low-cost setups.
Best for high-end class: GeForce RTX 3090 - most powerful GPU on the PC market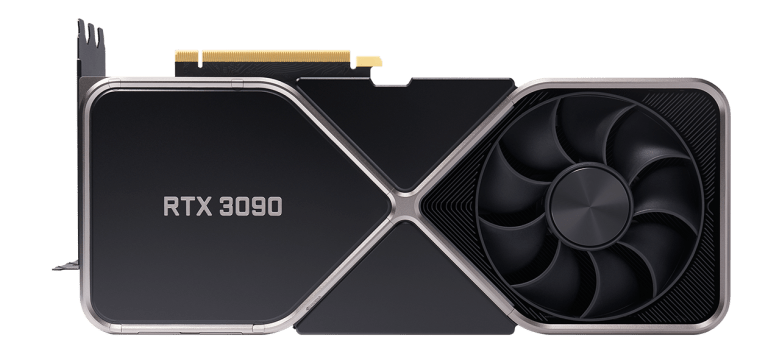 If you want to create a very high-end gaming PC, a graphics card like the GeForce RTX 3090 is a must-have. The GeForce RTX 3090 has 10496 CUDA cores, a base clock of 1.4 GHz, and a boost clock of 1.7 GHz. The card has a memory interface width of 384-bit and a memory config of 24 GB GDDRX6. That makes it incredibly powerful and a great addition to any PC used for playing games.
On top of that, the GeForce RTX 3090 is also known for bringing some great technologies like ray tracing, not to mention the board is created based on the Ampere Architecture. Some of the NVIDIA technologies integrated here are Reflex, Broadcast, Resizable BAR, DLSS, Ansel, FreeStyle, ShadowPlay, G-Sync, GPU Boost, and so on. It's a VR-ready board too, so if you want to play any VR games, this is by far one of the better options to keep in mind. It supports up to 4 monitors, and it has a 2.3 HDCP too, which is something to keep in mind.
If you want a powerful gaming PC, the best gaming PC out there, and you're creating it from scratch, then you have to use this board. It's the top-of-the-line product on the market right now, and it will impress you with the value and incredible power in gaming. However, this is a large board that requires a 750W power supply at the very least. But it's definitely worth the investment, and any gamer using the GeForce RTX 3090 to create his or her dream PC will be happy with the results.
Best in mid-range - Nvidia GTX 1660 Super (or 1660 Ti) and AMD's RX 5600 XT

If you want to avoid spending a fortune on a board like the RTX 3090, there are some other options to consider. The Nvidia GTX 1660 Super is a great pick mainly because it's 20% faster when compared to the regular Nvidia GTX 1660, and it also has GDDR6 and Turing support, which is excellent. This board is particularly suitable for 2K gaming, just like the RX 5600 XT from AMD. Both boards do an outstanding job at maintaining at least 40-60 FPS on max settings in most games, especially on 1080p or even 2k.
With that in mind, these boards are way less expensive when compared to the RTX 3090, and they have been on the market for quite some time. As a result, you can find great deals on them, and you will be pretty impressed with the fact that both boards have 6 GB of GDDR6, which is more than ok for most games, mainly if you stick to 1080p. The memory speed is 14 Gbps or equivalent, and the boost clock is very fast too, which is helpful for a product of this caliber.
Both of these cards are ideal to play games at a resolution of up to 2k. They come with nearly everything you need. The frame rate will be reduced if you use this at 4K resolution, as it is not the intended application for these cards. They're the ideal graphics cards for a mid-tier custom PC that nonetheless plays games in near to fantastic quality.
Best value for money - Gigabyte Radeon RX 5500 XT and Gigabyte Radeon RX 580

If you want the best value for money, then the RX 580 or the RX 5500 XT. These graphic cards are great if you have 60 FPS in games, especially esports. It's the best option if you play 1080p and don't want 2k or 4K gaming. The specs are great for both, although the RX 5500 XT benefits from a newer chipset and improved compatibility.
To play games with a resolution of up to 2k, either of these cards is an excellent choice. They've got almost everything you'll ever need. Because 4K resolution isn't meant for these cards, the frame rate will be slowed if you use them that way. A mid-tier custom PC can still play games in near-fantastic quality with these graphics cards.
If you want to create a custom gaming PC, these are the best graphics cards you should focus on. Additionally, you could go for a prebuilt like the ones provided by our company. We have various options that suit any price, ranging from the Silver with an RTX 3060 GPU, the Gold with a 3070, or Platinum with a 3070. Of course, we also have the Maniac option for enthusiasts, which has all the best and latest components. Don't hesitate and browse our website today; you will have no problem finding the right option to suit your needs!
Note
All articles must have disclaimer at the end that this article is the opinion of the author and does not represent the opinion of Volta PC.